Spring not only abounds in our area, this year even our desert is in bloom. And flowers aren't the only things that come out in April, for this is the month we experience the annual Julian Family Fiddle Camp (JFFC), its associated Spring Concert Series and its in-town finale known as the Julian Flash Jam. Indeed, fiddling fun continues in town, as once April departs, May will see our annual Julian Fiddle & Pickin' Contest.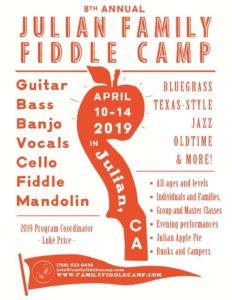 As in the past, JFFC 2019 has world-renown artists providing instruction for fiddlers, bass players, old-time banjo players, mandolin players, cellists and guitarists. It will also have special workshops on vocals and vocal harmony, Appalachian flatfoot dance, band dynamics and (of course) pie making. With our town having renewed the tradition of holding an annual Fiddle & Pickin' Contest, JFFC has special workshops on backup guitar for contest fiddlers, and how to choose the best tunes for contests.
Those not able to attend the camp but wishing to attend the concerts are welcome. This year's performances are headlined by two emerging super groups, the Page Turners and DEAN, with special guests invariably showing up to join in on stage. These are highly popular concerts, with tickets available on-line at
https://www.artful.ly/julian-family-fiddle-camp.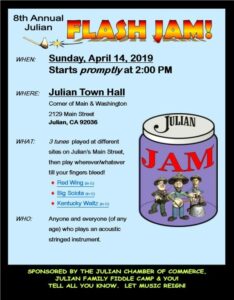 While JFFC classes, workshops and concerts are held at Camp Cedar Glen (near the Volcan Mountain Wilderness Preserve), the annual Julian Flash Jam will be held on Sunday, April 14th. This event has to be seen to be believed, but better yet, a shindig any/all acoustic musicians should participate in. It attracts folks of all ages from communities near and far, with everyone firing up and playing three well known fiddle tunes at the steps of Julian's historic Town Hall, then moving on to repeat the set at several additional spots on Main Street. Details are found on the flyer to the left, and one need but show up to get in on the fun.
Music reigns in Julian!
Friday, April 12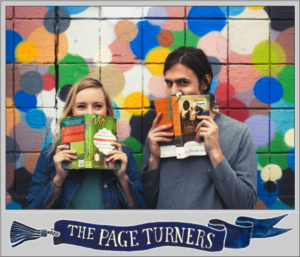 Saturday, April 13