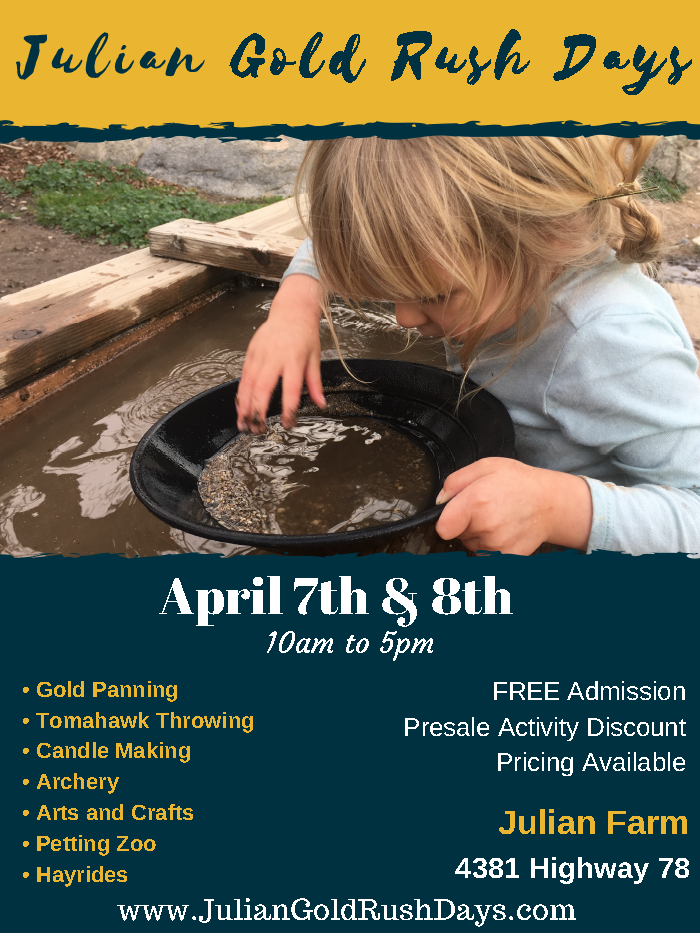 JULIAN GOLD RUSH DAYS
April 7th & 8th 2018
Admission is Free.
Presale Activity Package Available at a Discount.
We Look Forward to a Great Event This Year
Julian Farm, Operated by Julian Mining Company
4381 Highway 78, three miles west of  Main Street, Julian
951-313-0166

Celebrate the Discovery of Gold!
Held at Julian Farm in Wynola, you'll find re-enactments of an old-fashioned mining camp, an arts & crafts market, food and drink, panning, gem mining, children's pioneer games,
free parking and plenty of family fun.
Excited to Announce that Hole in the Wall Gang, A NON-PROFIT ORGANIZATION DEDICATED TO PRESERVING THE OUTLAW LEGENDS OF THE OLD WEST will be bringing their Town and Shoot Out Show to Gold Rush Days.
ADMISSION is FREE. Tickets are For activity package, which includes all of the following activities:
Hayride
Farm Animal Visit
Archery
Tomahawk Throwing
Candle Making
Sold Separately, the above activities would total $17.00. We are limiting this pre-sale discount to the first 250 packages sold. Pre-sale price $11.
Julian Gold Rush Days,, celebrates the discovery of gold in this mountain community and invites visitors to learn more about its history with a weekend of entertainment including gold panning, tomahawk throwing, candle dipping and more. Located at The Julian Mining Company in Wynola, the old fashioned mining camp will offer re-enactors,, an arts and crafts market, food and drink, a petting zoo, pony rides, and old fashioned laundry, free parking and plenty of family fun.
HISTORY
Julian was founded following the Civil War, when displaced Confederate Veterans from Georgia headed West to seek their fortunes in a new, mostly unsettled land. Among these were cousins Drue Bailey and Mike Julian, who found a lush meadow between Volcan Mountain and the Cuyamacas to their liking. A cattleman Fred Coleman found the first flecks of gold in a creek in early 1870. It was San Diego County's first and only gold rush.
The town was named Julian, in honor of Mike, who later was elected San Diego County Assessor. The town was never big, at the most boasting a population of about 600—more than reside within the historic district today. Rumor has it that Julian almost became San Diego's county seat.
The gold rush was short-lived, nearly over within a decade. But the pioneers stayed and began farming the rich land. While many crops were planted and animals pastured, Julian proved to be a fine place to grow apples. Apples continue to be produced in Julian. Their sweet, fresh flavor lures thousands to the mountains each fall, when visitors will find fruit stands overflowing with crisp fruit, homemade cider and other delicacies.
Many of the early pioneers are buried in the Julian Haven of Rest cemetery, located on the hill just North of town. The cemetery is open to the public.
Enjoy the History – Town Wide
The Eagle-High Peak Mine and Museum, one of the more prosperous mines during the gold rush, is open daily for tours.  The tours give you the experience of what is was like in the early days of gold mining.
Julian Doves & Desperados
Historic comedy skits on Sunday at 1:00 pm, 2:00 pm & 3:00 pm located in the stage area between Julian Fitness Center & the Julian Market & Deli. For information call (760) 765-1857.
Eagle and High Peak Mine and Museum
Offers daily tours of the mines from 10:00 am to 2:00 pm.  Adults are $10.00 and children are $5.00.  Gold panning and museum are included in the price. 2320 C Street in Julian.  For more information call (760) 765-0036.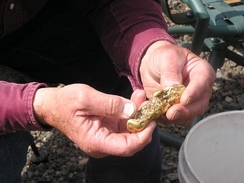 Joining us in 2018 Both Days from
11am to 3pm