Julian Apple Season –  A Season of Harvest Celebrations
JULIAN APPLE SEASON 2018
2018 Will Boast a Series of celebrations of the Days that Bring Apples to Julian.
Events in the Works for the Coming Apple Harvest Season
August 11-12
Open Studios Tour – Visit The Event Website – Click Here
August 11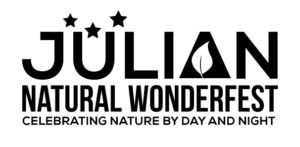 This afternoon and evening gathering at Jess Martin Park will include a late night astronomy star party, wildlife ambassador encounters, games and activities for families, presentations of music and art, and outreach booths from land preservation and other local nature-focused organizations.
August 25
Kids Art Activity at the Julian Arts Guild Gallery. Rock Painting and Princess Crown Making
Sept. 8 – October
Family Activity – Build a Scarecrow for display in front of Wynola Junction Antiques & Collectibles. For all those driving by to enjoy.   This is the kick off weekend and will continue throughout the season.
Sept.  22/23
Old Fashioned Country Fair.  More details to follow. To be held in Wynola at Julian Farm.
Sept.  29
Fort Cross Kicks off their season with events for the entire family – Johnny Appleseed Look Alike. "Good Apple" Contest and much, much more.
Sept. 29
Julian Branch Library Hosting the Fern Street Circus. This is going to be a WONDERFUL event you do not want to miss!
Fern Street Circus, founded in Mid-City San Diego, combines performance and education for community benefit. Our professional troupe brings together San Diego's finest circus, variety, and musical artists, working in collaboration with locally known visual artists who create a magical performance space.
Fern Street Circus is a show for all ages.
We teach circus – principally in city rec centers – integrating students into the main Fern Street Circus core, so that these young people learn as they perform, and their families and neighbors see them in a new, positive light.
More Details to come. 
We will continue to update this page and share on Social Media the events planned with you and your family in mind.
Santa Ysabel Store
SOHO, Save Our Heritage Organization
Step back in time as you visit the Santa Ysabel Store.
30275 Hwy 78
Santa Ysabel, CA 92070
760-765-1270
www.sohosandiego.org