Julian Fourth of July Parade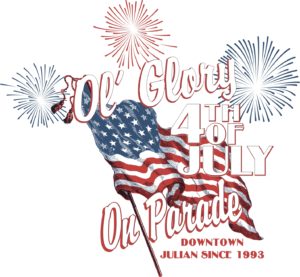 Celebrate Our Nation's Birthday in Julian
Things you should know:
Parade staging area at Julian High School, participants only please.
Main Street closes to traffic at 9 a.m.; follow directions to the nearest parking lot
Public toilets will be available next to the brick building and behind Town Hall.
Fast Facts About the Parade:
Tuesday, July 4, 2017. Parade steps off at noon, lasts about 1 hour.
Where:
Downtown Julian; Main Street.  From Julian High School to Frank Lane Park.
Pre-Events: 
10 and 11:30 (Over Main Street)
Two flyovers by vintage aircraft
10-11:45 (In front of Brick Building -old bank)
Gunfight with Julian Doves & Desperados
Patriotic Musical Presentation
11:45
Audience will be invited to assist with unfurling an enormous and kick off the parade with a procession down Main Street.  (volunteers will be given time to get back to seats)
10-1
Three locations along main st 2017 Parade T-shirts on sale
Raffle tickets for sale.  You don't want to miss the opportunity to have a chance of winning a free ride in one of the vintage aircraft and glider with Sky Sailing at Warner Springs.  Date to be arranged by winner.
-ALL proceeds go to next years parade.
Post-parade events:
Barbecue, music, dancing at the American Legion
Julian Woman's Club Historic Quilt Show–where?