Julian Event Planning Resources
Whether you are planning a wedding, a family reunion or a company retreat, you will find many services and locations in Julian to help you create an event to remember!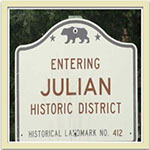 Captain Bill Catlett
Ordained Minister and Merchant Marine Captain
Wedding minister, funeral service minister. Reverend Bill Catlett can help you plan and officiate your wedding at your choice of locations, including at sea, at a beach, outdoors, a boat, a church, etc..
45720 Hwy. 79 South #407
Aguanga, Ca 92536
no1reverend@aol.com
www.no1reverend.com

Dave's Musical Entertainment
Mobile DJ, Sound Engineering, and Lighting. Based in Julian, CA, I provide a host of professional music services including weddings, dance lighting, up-lighting, emcee, special events, parties, band stage/house sound system and mixing, etc.
(858) 829-8925
P.O. Box 2394, Julian, CA 92036
Email: djdave@davesmusicalentertainment.com
Website: www.davesmusicalentertainment.com
Facebook: www.facebook.com/davesmusicalentertainment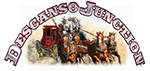 Descanso Junction Restaurant and Catering,
8306 Hwy 79
Descanso, CA 91916
619-659-2199
www.descansojunction.com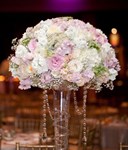 Flowers on 78
Relocated to Julian from San Diego, we are a full service florist for all your Wedding and Mitzvahs needs.
Coming soon is a shopping cart for all your floral, gifts, and accessories.
(619) 851-0110
4470 Hwy 78, Julian, CA 92036
Hours of operation: 7 days a week, 10 am – 6 pm
While walk-ins are cheerfully welcome, appointments are preferred in case we are momentarily away.
adele@flowerson56.com
www.Flowerson78.com

Jeremy's on the Hill California Bistro
Full service, chef prepared professional catering services for your special event featuring California fresh cuisine, seasonally inspired with local produce and proteins. Steaks, seafood, salads, gourmet burgers, specialty desserts and so much more are offered along with vegetarian, vegan and gluten free options, as well as a youth menu. On site event location options include a smaller, indoor banquet area or larger, enclosed area for patio dining (up to 80 guests, with seasonal fireplaces and heaters provided). Off-site catering, rehearsal dinners, and receptions are also available.Jeremy's on the Hill is located between downtown Julian and Santa Ysabel.
(760) 765-1587
4354 Highway 78, P.O. Box 1026, Julian, CA 92036
www.jeremysonthehill.com

Julian Vacation Rentals
Julian Vacation Rentals is a reservation & booking agency customizing your wedding, corporate, leadership or family retreat accommodations for up to 500 guests in 3 separate facilities.
Access to conference center, junior Olympic pool, archery, Skate Park, hiking, trail rides, massage, yoga, tai-chi and so much more. A memorable experience for every budget.
(760) 765-4604
P.O. Box 2144, Julian, CA 92036
Email: info@julianvacationrentals.com
www.julianvacationrentals.com



Mountain Made
Bring home the mountsins with our handmade candles, cards, party favors and more!
mountainmademerchandise@gmail.com
www.mountainmademerchandise.com/party-favors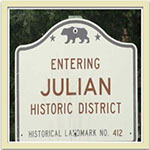 Photos by Albie
Photography for all seasons. Weddings, nature, pets, sports,
portfolios, etc. Outdoors is my specialty.
(760) 765-1705
3537 Royal Drive, P.O. Box 2194, Julian, CA 92036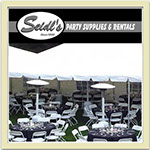 Seidl's Party Supplier & Rentals
(760) 787-9455
1520 Main Street
Ramona, CA 92065
www.seidlspartyrentals.com

Talons, LLC
Cisco Clibourne is a master falconer who successfully uses his trained falcons and hawks to provide professional bird abatement, entertainment and educational services. Interactive displays, demonstrations and supervised live contact with our birds of prey.
We cater to-county and state parks and preserves – vineyards and wineries -private parties, group gatherings, school assemblies, education demonstrations, hiking groups and hawk walks.
760-224-2323
760-685-8777
kclibourne@gmail.com
www.toptalons.net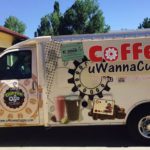 uWannaCuppa
uWannaCuppa, mobile expresso bar, provides the highest quality of freshly made espresso drinks (hot and cold fusions) brought to your worklace or event.
Cynthia Frazier
(619) 831-2793
cynthia@uwannacuppa.com
www.uwannacuppa.com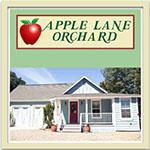 Apple Lane Orchards
A unique wedding venue nestled in the historic town of Julian on the grounds of a working apple orchard and cider company. Our country orchard wedding venue is an ideal setting with lots of rustic charm for your ceremony and reception.
We also offer Apple Lane Country Estate, a 3 bedroom, 2 bath home perfect for your stay with us!
2641 Apple Lane, P.O. Box 247, Julian, CA 92036
Steve Gannon: 760-338-8535
applelaneweddings.com
info@applelaneweddings.com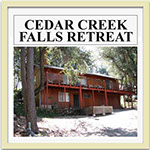 Cedar Creek Falls Retreat
Cedar Creek Falls Retreat is the perfect place to host an intimate wedding on a budget!
At 2200 sq ft, on an acre of land, and sleeping up to 15 guests, your bridal party can stay together while providing a private room for the bride and groom. Wedding site looks through the trees into San Diego, at night you can see the city lights. The owner was a designer on a paper-crafting show and had her own line of products. She has a myriad of display items available. Included in the site & lodging fee are the use of our 6 6-ft rectangular tables, table linens, serving trays, decorations, accessories for the food and dessert tables, chalk board, beverage dispenser, and an on-site rep. Ask for specials. Call for details. 40 people max including bridal party.
(310) 569-3345
Email: info@oakgrovefamilycabin.com
www.CedarCreekFallsRetreat.com

Julian Station
A rustic former apple and pear farm and cider house that currently features a working farm and vineyard, 8 shops, a coffee house and three tasting rooms (local wine, beer & hard cider). Two ceremony setting options and choice of open field outdoor reception or patio reception near our unique wine, beer and hard cider tasting rooms.
Now booking indoor weddings for year-round celebrations.
(760) 885-8364.
4470 Highway 78, P.O. Box 69, Julian, CA 92036
Email: albert@julianstation.com
www.julianstation.com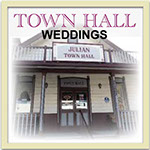 Julian Town Hall
Historic Town Hall, holds 100 people, kitchen available.
(760) 765-1857
Email: chamber@julianca.com
www.julianca.com

Julian Wagon Wheel Retreat
Wonderful 8 bedroom, 7 bath, log trimmed home on 21
wooded acres. Perfect for Family Reunions, Retreats, Corporate Getaways or a little time with your family. Wrap around deck,
Jacuzzi, BBQ, Satellite TV are some of the amenities.
Sleeps up to 26.
(760) 670-8357 (pet ok)
P.O. Box 5, 569 KQ Ranch Road, Julian, CA 92036
www.JulianWWRetreat.com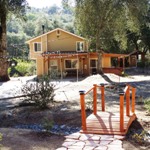 Julian Wedding Venue
Welcome to Julian Wedding Venue, located on 10 acres. The venue is affordable, private and spacious. Enjoy your wedding and reception in Julian, California, right outside of San Diego, California.
(619) 333-8557
5049 Hwy 78
Santa Ysabel, CA 92070
info@julianweddingvenue.com
www.julianweddingvenue.com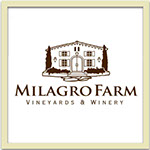 Milagro Farm Vineyards & Winery
A boutique winery offering ceremony and reception space for up to 50 people indoors or 200 outdoors. Enjoy the beauty of the rolling hills and ponds at this elegantly rustic setting.
(760) 787-0738
18750-C Littlepage Road, Ramona, CA 92065
Email: sara@milagrofarmwinery.com
www.milagrofarmwinery.com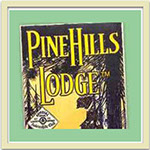 Pine Hills Lodge
Beautiful Mountain Lodge built in 1912. Can accommodate up to 133 in our dining room and an additional 125 on our outdoor 5 cedars deck. Several ceremony locations. Full service catering. Full bar in the Lodge. Lodging for up to 40 people. Sunday Brunch.
(760) 765-1100
www.pinehillslodge.com

Sacred Mountain Julian
By reservation. Sacred Mountain Julian is a private 61 acre ranch providing wedding retreat accommodations and vacation rentals.   From our mountain-top private ranch take in 360 degree views making our destination like no other in Southern California.
sacredmountains@gmail.com
sacredmountainjulian.com
(760) 765-1800
Rehearsal Dinner or Large Party Dining Venues

Jeremy's on the Hill California Bistro
Your rehearsal dinner is a special day! Chef Jeremy offers California fresh cuisine, seasonally inspired with local produce and proteins. Steaks, seafood, salads, gourmet burgers, specialty desserts and so much more are offered along with vegetarian, vegan and gluten free options, as well as a youth menu. Extensive local beer, wine, hard cider and champagne selection. For smaller, more intimate dinners, we offer an indoor banquet area or we have a larger, enclosed area for patio dining (up to 80 guests, with seasonal fireplaces and heaters provided). Plenty of room for slide shows and gift tables.Off-site catering options available as well.Jeremy's on the Hill is located between downtown Julian and Santa Ysabel.
(760) 765-1587
4354 Highway 78, P.O. Box 1026, Julian, CA 92036
www.jeremysonthehill.com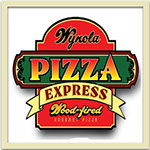 Wynola Pizza & Bistro
Wynola Pizza Express & Bistro offers a unique setting that is perfect for your special occasion or event.
With two truly private dining areas. One accommodates approximately 30 people and the other approximately 70 people.
4355 Highway 78
Julian/Santa Ysabel, CA
760-765-1004
http://wynolapizza.com/privateparties.html