Unique Shopping in Julian
Boutique and specialty shops provide shoppers with an exceptional variety of unique stores, art galleries and antique shops. You'll find arts, crafts, old fashioned candy, apparel, and wonderful unique mementos along the historic streets of Julian. There is something for everyone!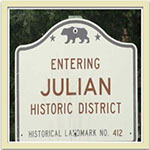 Wayne & Tom The Antique Finders
Buy & sell antiques & collectibles on EBay.
(760) 765-2354
Email: wasswass@sbcglobal.net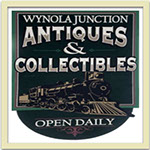 Wynola Junction Antiques and Collectibles 
A variety of antique and collectible dealers
located in the historical fruit packing shed in Wynola – three miles West of Julian. Open: 7
days a week, 11 am to 6 pm
(760) 765-4758
4326 Highway 78, Julian, CA 92036
wynolajunction@gmail.com
www.wynolajunction.com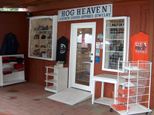 Julian Hog Heaven 
Providing goods that bikers find useful, functional, fun, warm or just plain cool! Includes thermal underwear, socks, warm clothing, masks, gloves, cargo needs, etc. for the ride.
(760) 765-0449
2608 B Street (in K.O. Corral)
P.O. Box 1390, Julian, CA 92036
Email: julianhogheaven@sbcglobal.net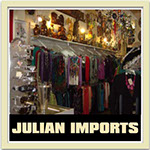 Julian Imports
Brighton products, clothing, belts, jewelry,
watches, mirrors and collectible art.
(760) 765-2490
2106 Main Street, Julian, CA
www.julianimports.net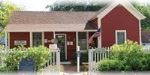 Kathy's Dress Shop
Fine ladies clothing, jewelry, hats and gifts. Located in the historic Frary House
Open everyday 10 am to 5 pm
(760) 765-0119
2019 Main Street
P.O. Box 1124, Julian, CA 92036
Email: kathy.enloe@gmail.com
www.kathysdressshop.com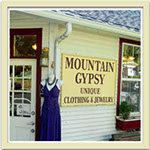 The Mountain Gypsy
The Mountain Gypsy is a boutique specializing in woman's clothing, jewelry and accessories.
(760) 765-0643
2007 Main Street
P.O. Box 141, Julian, CA 92036
Email: mountaingypsy@att.net
www.themountaingypsy.com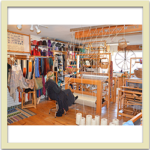 Julian Weaving Works / Academy of Hand Weaving

The Studio Gallery Open from 10 to 4 Thu-Sun, but if we happen to be working weaving custom saddle blankets you are welcome to come in and see.  Handwoven Wearable Art including shawls, scarves, hats, skirts, dresses. Jackets.  Many household items rugs, runners, lap throws, throw pillows etc.
Most items are woven on site so it is a great place to experience this ancient art form in process.Some yarns are available for sale.
30352 Highway 78
Santa Ysabel, CA 92070
760-765-1986

Kat's Yarn & Craft Cottage
A friendly and cozy shop featuring local, American and imported yarns, patterns, shawl pins, buttons, finished garments and more! Aka Kat's Yarn & Craft Cottage
(619) 246-8585
2112 Fourth Street
P.O. Box 1562, Julian, CA 92036
Email: kat@julianyarn.com
www.julianyarn.com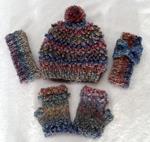 Knitting by Marilee
Knitting by Marilee specializes in hand knit accessories. Blue-ribbon-winning gloves, snow bunny beanies, hiker chic socks, fashion headbands, and charming scarves are all available for adults and kids.
While knitting year round and attending craft shows, Marilee now has a hand knit accessories store upstairs in the W.E. Cole Building on Main Street
(760) 208-7819
2116 Main S Suite 2B
knittingbymarilee@cox.net
https://www.facebook.com/KnittingbyMarilee/


Grocery, Produce and Beverage Stores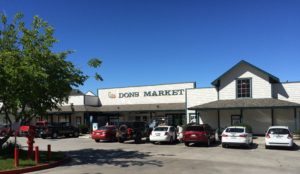 Don's Market
Don's Market is a proud member of the Julian Chamber of Commerce . Our store is dedicated to serving our local community by providing quality meats, fresh produce, local products, and reasonable prices.
(760) 765 3272
30250 Highway 78, Santa Ysabel
www.donsmarketsantaysabel.com/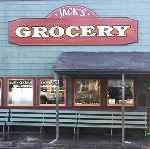 Jack's Grocery and Deli
Great selection of meat and produce. Organic and gluten free groceries.
Camping and household supplies, sundries, ATM. Delicious Deli sandwiches.
Parking behind the building for customers.
(760) 765-3200
2117 Main Street
Julian, CA 92036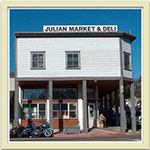 Julian Market and Deli
Complete food store, quality meats, fresh
produce, hot take-out food, picnic items,
sundries, bakery and camping supplies.
(760) 765-2606
2202 Main Street, Julian, CA



Mountain Spirit Liquor 
Complete liquor and convenience store providing groceries and snacks, a huge selection of liquor, wine, ice cold beer, sodas, and other beverages, local Julian wine and hard cider, tobacco and fine cigars, lottery games and scratchers, phone accessories, and much more.
Hours: Sun-Thur 9 am-9 pm, Fri-Sat 9 am-10 pm
(760) 765-0554
2120-22 Main St.
Julian, CA 92036
Wynola Flats Produce (no U-Pick)
Fresh fruit and produce directly from farms year-around. Both conventional and organic farming. Local honey as well as honey from small apiaries. Balsamic Vinegar, Olive Oils, Dates & Nuts in season. Dry Goods Room with small amounts of supplies.
(760) 765-1868
3962 Highway 78
P.O. Box 704, Julian, CA 92036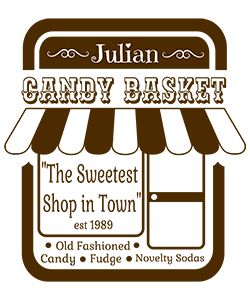 Julian Candy Basket
"Julian's Best Little Candy Store"
Full of nostalgic favorites, candy from around
the world, micro brew and nostalgic sodas (over 100) , tins and gifts. We carry chocolates and Julian's Best Fudge, rock candy, bulk, cactus, and organic. come on upstairs in the Cole building and check us out. We ship!
(760) 765-0785
2116 Main Street, Suite 2B
P.O. Box 463, Julian, CA 92036
Email: juliancandybasket@att.net
www.thejuliancandybasket.com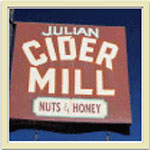 Julian Cider Mill
Cider, candy, caramel apples, raw honey, dried fruits, nuts, apple & pumpkin butters, jams, jellies, marmalade, preserves, a large selection of sugar free candies and preserves as well as many gift items. We ship UPS.
(760) 765-1430
Corner of Main and B Streets, Julian, CA
www.juliancidermillinc.com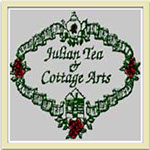 Julian Tea & Cottage Arts
A vast array of teas, both bagged and loose, are available at the teashop and also by mail. Be sure to check out our full list of tea offerings here on our website and call us to place your order.  A wide variety of gourmet foods are also available, with featured products on display for sampling daily.
(760) 765-0832
2124 Third Street, Julian
Email: info@juliantea.com
www.juliantea.com



Star B Ranch
Star B Buffalo Ranch and Hop Farm is open to the public for grass fed Buffalo meat and hop sales by appointment only.
(760) 789-8155
28428 Highway 78, Ramona, CA 92065
www.starbranch@hopfarm.com
Email: starbken@hotmail.com