Mind, Body, Spirit: Julian Spas, Yoga, Beauty & Self Care
Julian has a growing variety of classes for fitness and self care. Also available are Spa services offering massage and Acupuncture.  All of these services will add to your experience when visiting Julian.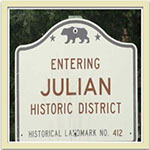 Backcountry Barber & Beauty
Julian's new place for groom and glam!!  Haircuts and hair color.  Ask about our "locals discount."
Hours are Monday, Thursday & Every Other Saturday and Always by appointment.
1933 Main Street
Julian, CA 92036
619-223-2887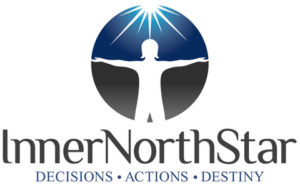 Inner North Star
Julian's most unique venue for yoga and meditation retreats, events and celebrations. We even have a 1920's themed champagne room to host your next special occasion. Hours are by booking.
info@innernorthstar.com
www.innernorthstar.com
425-577-9041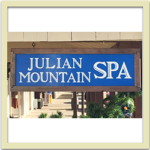 Julian Mountain Spa
A Boutique day spa with cozy cabin atmosphere. Offering variety massage and bodywork modalities, holistic facials and skin care, acupuncture and herbal consultations. Discounts for group events and spa day packages. Please visit our website for a complete list of services. We look forward to seeing you!
(760) 896-4049
2122 Main Street, Ste. C, Julian
Email:  julianmountainspa@gmail.com 
www.julianmountainspa.com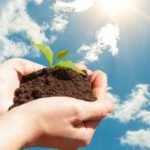 Ohana Health and Wellness Center
We offer health and wellness coaching with a like-minded community. In addition, onsite appointments and events for chair and table massage treatments. We ae certified and licensed health coaches and holistic health practitioners
Services are by appointment only.
PO Box 1313 Julian, CA 92036
info@ohanahealthwellness.com
www.ohanahealthwellness.com
951-581-2231

San Diego Spiritual Retreat Center
Come rejuvenate, be still and renew with us. Enjoy fresh mountain air, guided meditations, yoga, healing foods with meal preparation lessons, and much more!
Jennifer Robinson
(619) 333-8557
5049 Hwy 78
PO Box 603
Santa Ysabel, CA 92070
info@sandiegospiritualretreatcenter.com
sandiegospiritualretreatcenter.com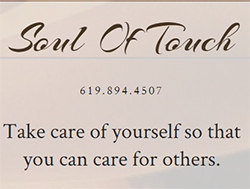 Soul of Touch
Holistic health services include massage, bodywork and energywork for individuals, couples and large parties: Traditional Chinese Medicine, Acupressure, Deep Tissue, Mayofacial Release, Prenatal, Sensory Repatterning, Swedish and more. Licensed and insured, over a decade in practice. By appointment or check website for clinic walk-in hours.
Non-clinic hours 9 AM to 7 PM,
7 days per week by appointment.
(619) 894-4507
PO Box 1561
Julian, CA 92036
Email: souloftouch@gmail.com
www.souloftouch.com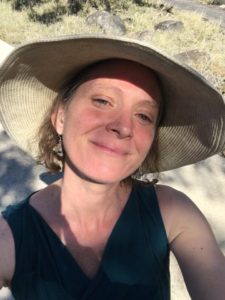 Wisdom Within
Custom relaxation, massage and craniosacral therapy for unwinding the mind and body. Energetic healing to clear outworn patterns and support transitions through grief/loss, divorce, birth, career, etc. Flexible hours–by appointment.
Lorien Lehmer
(760) 310-8974
2216 Main Street
PO Box 368
Julian, CA 92036
lorienlehmer@aol.com
www.lorienalia.com