Julian Real Estate Services

Community Valley Bank
CVB offers various deposit accounts, business lines of credit, equipment and commercial real estate loans and assists with cash flow, expense needs, and small business administration financing.
Jon Edney
(760) 352-1889
PO Box 1808
El Centro, CA  92244
www.yourcvb.com/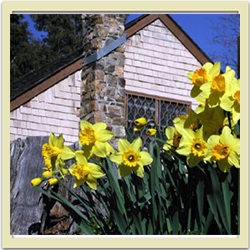 Kirby Winn
JULIAN PROPERTIES
Julian Properties has been in business at the same location, under the guidance of the same broker since 1967.  No other company in Julian can make this claim and we're proud of our track record and reputation.  We can provide you with friendly, honest and knowledgeable service that won't be beat!
(760) 765-0192
P.O. Box 1000, Julian, CA 92036
www.julian-properties.com
Dennis Frieden
JULIAN REALTY BROKER/OWNER
Realtor ® 30 Years Experience
JULIAN REALTY SINCE 1946
President Ranch and Country Realty Inc.
Julian Realty Coast Residential Realty  We have combined professional abilities, modern office resources and extensive field knowledge into  a comprehensive Real Estate service designed to satisfy your discerning needs. Please go to web site.
Office: (760) 765-0818,
Cell: (760) 310-2191
2127 Main Street, Next to Julian Town Hall
P.O. Box 655, Julian, CA 92036
Email: def12358@aol.com
www.julianrealty.com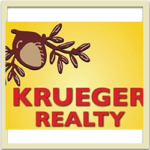 Lisa Ballard
KRUEGER REALTY
Serving the back country since 2008, Lisa Ballard of Krueger Realty is a community ranch and home sales specialist. Luxury homes, land, groves, short sales, REOs, specialty properties – she does it all. She really loves her home town and it shows. Whether you're buying or selling, Lisa delivers the ultimate in personal, professional real estate service. So call and get to know her. Lisa's ready to get right to work for you.. Hoping to see you soon…
(760) 855-0345
Email: lisa@kruegerrealty.com
www.welcometojulian.com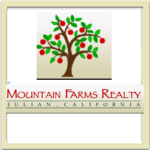 Kaaren Terry, Owner
Mountain Farms Realty
Mountain Farms Realty has served Julian at this same location since 1993. Full service Real Estate, assisting buyers and sellers along with helping tenants find homes through our Property Management service, and short term guest using our Vacation Rental Services.
(760) 765-0111
P.O. Box 1360 Julian, CA 92036
kaarenterry@aol.com
www.julian-realestate.com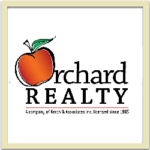 Deborah Kerch REALTOR ®
ORCHARD REALTY. INC
Full time local REALTOR ® specializing in back country property sales. I proudly offer the highest standards in Real Estate services, sales & marketing, expert since 1993.  Member NAR / CAR / SDAR / RMS.
(760) 765-1000
2526 Washington St., P.O. Box 1869, Julian, CA 92036
Email: dj@orchard-realty.com
www.orchard-realty.com/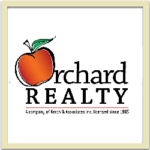 Steve Kerch, Broker/Owner
ORCHARD REALTY. INC
(760) 579-3716
Our agency is proud of its three generation history. Offering over 60 years of expertise in business, commercial, Industrial and now residential real estate service.
2526 Washington St., P.O. Box 1869, Julian, CA 92036
Email: dj@orchard-realty.com
www.orchard-realty.com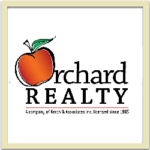 Jane Brown-Darche, Realtor ® / Broker Associate
ORCHARD REALTY
Local Julian real estate agent since 1989. My mission is to provide clients with the highest quality of professional real estate services by offering many years of knowledge, experience and dedication.
(760) 522-2709
2526 Washington Street,
Julian, CA
Email: janedarche@aol.com
www.orchard-realty.com



RED HAWK REALTY
Donn Bree, PHD Broker / Owner

Certified Eco Broker specializing in ranches, homes, land and loans. Providing experienced, professional service with land mitigation, trust deeds and consulting. In-house mortgage company and marketing team.
(800) 371-6669
21887 Washington Street
P.O. Box 188, Santa Ysabel, CA 92070
Email: marketing@donn.com
www.donn.com



Sheryll Rainey, Realtor, ABR, SRS, SRES, CNE
Sage Real Estate Co.
Give me a call and let me be a part of your Real Estate Team! I will provide you with honest, professional & knowledgeable expertise whether Buying of Selling. My credentials speak for themselves and so do my referrals. Specializing in Julian and backcountry homes, ranches, cabins and land. Many happy clients from Chula Vista to Oceanside too! Member of NAR, CAR, SDAR, SRES, COUNCIL, REBAC COUNCIL.
(760) 604-2226
2724 B Street (Corner of 4th & B Streets)
P.O. Box 621
Julian, CA 92036
Sheryll@SageRealEstateCo.com
SageRealEstateCo.com

Juli Zerbe, Broker/Owner, REALTOR ®
Sage Real Estate Co.
We are proud to provide you friendly, professional real estate services with honesty and integrity. Representing buyers and sellers of cabins, homes, custom homes, ranches and land.
(760) 765-1776
(760) 445-1642
2724 B Street (Corner of 4th & B Streets)
P.O. Box 621
Julian, CA 92036
Email: julifromjulian@gmail.com
SageRealEstateCo.com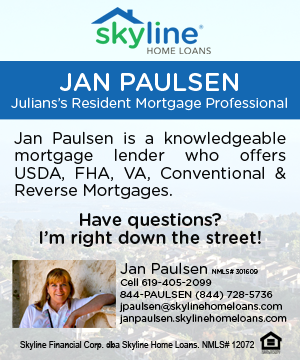 Skyline Home Loans ~ formerly Rancho Financial
Jan Paulsen
Any referral will be greatly appreciated and treated with professionalism and respect.
1-844-PAULSEN (728-5736) Toll Free/Direct
Office: 858-451-0620 x 6141
19-405-2099 Cell/Text
1-855-738-2623 Direct eFax
NMLS # 301609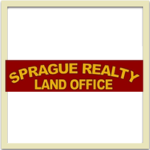 SPRAGUE REALTY
Main Street Julian for over 50 years. Home and land sales. Property management. Commercial real estate sales and rentals. Experienced and knowledgeable, 7 days a week.
(760) 765-0035
2110 Main Street, PO Box 636
Julian, CA 92036
Email: spraguerealty@sbcglobal.net
www.propertyinjulian.com