Anza Borrego Desert State Park
Camping, biking, hiking, a large variety of flowering cacti, palm groves, bighorn sheep and exotic birds.
(760) 767-5311

Cuyamaca Rancho State Park
Campsites at Green Valley are open. Reservations are currently being accepted for Fridays and Saturdays. Sunday through Thursday are on a first come, first served basis.
Information: (760) 765-0755
Camping Reservations: (800) 444-7275
http://www.stateparks.com/cuyamaca.html

Fort Cross Old Timey Adventures
Offering Guided camping with activities including star gazing, fire making, hiking and/or nature walks with plant & animal identification, campfire jam with jug band participation, water games, and so much more!
Camping also available in addition to any of our educational Group Tours as well!
4425 Hwy 78, Santa Ysabel, CA 92070
951-847-1904
www.fortcross.com
www.facebook.com/fortcrosscamping/
Instagram: @fortcrossadventures

Julian Christian Retreat, Inc.
Beautiful Christian / Judeo retreat. Large oak and pine trees. Lodge with recreation room. 5 cabins, eight bunks each, furnished kitchen, dining room, toilets and showers. 4 miles from Julian.
(619) 443-1021
4776 Pine Ridge Way, (Pine Hills), Julian, CA
P.O. Box 59, Lakeside, CA 92040
Email: sjanes@usa.net


Julian Mountain RV & Trailer Repair LLC
JMRV Provides mobile repair service for all classes of motorhomes, travel trailers and utility trailers within a 30 mile radius of Julian. Wednesdays through Sundays, 8 AM to 5 PM.
(760) 765-9965
Email: service@julianmountainrvrepair.com
www.julianmountainrvrepair.com


Julian Vacation Rentals
Contact us for your group camping needs.
Julian Vacations is a reservation & booking agency customizing your wedding, corporate, leadership or family retreat accommodations for up to 500 guests in 3 separate facilities.
Access to conference center, junior Olympic pool, archery, Skate Park, hiking, trail rides, massage, yoga, tai-chi and so much more. A memorable experience for every budget.
760-765-4604
P.O. Box 2144, Julian, CA 92036
info@julianvacationrentals.com
www.julianvacationrentals.com


KQ Ranch Resort
Five miles south of Julian on Highway 79, five star membership RV & camping resort with full hook-up and tent sites, pool, miniature golf, tennis courts, basketball, fishing pond and clubhouse. Call for non member reservations (866) 217-8111.
(760) 765-2771
449 KQ Ranch Road, P.O. Box 1088, Julian, CA 920363
Email: camillesims@gmail.com
www.coloradoriveradventures.com

Lake Cuyamaca Recreation & Park District
Family fishing lake with camping. Picnicking, boating, hiking, nature walks and cabins. Terrific wildlife watching. Free fishing class every Saturday. Cabins with lake view.
(877) 581-9904
15027 Highway 79, Julian, CA 92036
Email: georgia@lakecuyamaca.org
www.lakecuyamaca.org

Lake Henshaw
Welcome to Lake Henshaw Resort, a beautiful lake resting at the foot of the Palomar Mountains in California. You can either camp, RV Hook-up, or stay in a house-kept cabin nestled away on the hillside overlooking the lake. A sparkling pool and spa, children's playground, grocery store and ice, clubhouse and laundry facilities complete the amenities.
(760) 782-3501
www.lakehenshawresort.com/camping.html


Mount Laguna Camping
Laguna Campground is a great mountain getaway just one hour east of San Diego, California in the Laguna Mountain Recreation Area. Campers can enjoy cooler temperatures, unique natural areas and an extensive trail system at this mountain facility from summer through early fall.
www.reserveamerica.com/camping/laguna

Palomar Mountain State Park
(760) 742-3462
Tamarisk Grove
(760) 767-5311


Pinecrest Private Retreat
Rv and Camping retreat specializing in vintage trailers located on 85 wooded acres. Group camping; limited hook-ups; dump station; Olympic pool. Located 3 miles south of Julian.
(760) 765-0464
3936 Highway 79, P.O. Box 926, Julian, CA 92036
Email: krosenow@webrsg.com www.pinecrestretreat.com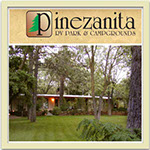 Pinezanita RV Park and Campgrounds
Clean and quiet campground rated in Top 10 in southern California. RV and tent camping, fishing pond, campfires allowed. Located four miles south of Julian.
(760) 765-0429
4446 Highway 79
www.pinezanita.com

Whispering Winds Catholic Conference Center
A retreat center serving up to 200 people, please see website for details.
(760) 765-1600
17606 Harrison Park Road, Julian, CA 92036
Email: office@whisperingwinds.org
www.whisperingwinds.org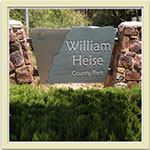 William Heise County Park
Information: (858) 694-3049
Camping Reservations: (858) 565-3600
www.co.san-diego.ca.us/parks

YMCA Camps Marston – Raintree Ranch
Southern California's finest Youth Camps and Retreat Centers, offering year-round programs to people of all ages: weekend retreats & conferences, environmental education and summer youth camps.
(760) 765-0642
Email: camp@ymca.org
www.ymca.org/camp

 Camp Marston

 Raintree Ranch