Cabins, Cottages & Houses  in Julian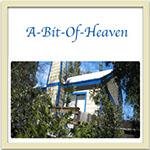 A Bit of Heaven
Cozy, quiet, clean cabin with bedroom, loft, full kitchen, spacious living room, cable TV/DVD, deck, pines, oaks, yard. 1 1/2 miles  to Julian. Sleeps 6. No smoking. Children OK. Pets allowed with prior approval.
(858) 395-1588 or (858) 483-3294
www.ourjuliancabin.com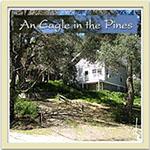 An Eagle in the Pines Cabin
Private and warm, 2 bedroom, 2-bath. 1 mile from town site. All amenities for a perfect getaway. Gas stove, jetted tubs, king & queen beds, full kitchen, BBQ, DirecTV/DVD, VCR,
stereo, WiFi. Sleeps 2-6. Kids and pets welcome.
(760) 765-1252 (888) 345-6378
info@aneagleinthepines.com
www.aneagleinthepines.com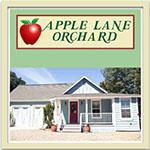 Apple Lane Orchard & Country Estate
We are a fully functional orchard and cider processing company supplying San Diego and Riverside Counties. We operate a country orchard wedding venue as well as a 3 bedroom, 2 bath country villa for vacation rental. Pet OK.
Steve Gannon: 760-338-8535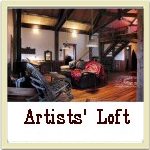 Artists' Loft
"We have traveled near and far through this country and it was beyond our expectations that the most perfect destination would be so close to home."
The Artists' Loft is a true timber-framed cabin with a large screened porch, wood burning stove, jetted tubs and full kitchen. 2 private suites and loft can sleep 1-5 persons. $220-$310
(760) 765-0765
www.artistsloft.com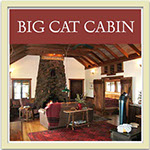 Big Cat Cabin
"The peace and serenity we experience here is amazing and cannot be matched anywhere else in the world. No matter how often we come, we can't seem to get enough. The transformation is almost immediate."
Big Cat is a restored 1929 Craftsman Style cabin on 4 wooded acres. Original stone fireplace, full kitchen and a porch with views from the mountains to the ocean. Sleeps 2 $195-$210
(760) 765-0765
www.bigcatcabin.com

Black Oak Cabin
Cozy one bedroom cabin, 1/2 mile from town. Kitchen, BBQ, cable TV, free WiFi, great front porch. Perfect for a romantic get-away or small families. Sleeps 4
(800) 379-4262 or (760) 765-2179
info@blackoakcabin.com
www.blackoakcabin.com



Blue Jay Lodge
Sunrise Highway, Mount Laguna. Romantic country getaway. Three one room cabins for two.
Logged interior, 4-poster bed, kitchenette, microwave, fridge, wood burning brick fireplace, shower. Restaurant/Bar
(619) 473-8844
10600 Sunrise Highway, Mt. Laguna, CA 91948
www.bluejaysandiego.com

Cabin at Strawberry Hill, The
"There are all too few moments in life when we know we are in the right place at the right time, this is one of those moments."
The Cabin at Strawberry Hill is a serenely quiet one-room cabin with a wood burning stove, full kitchen, screened porch, deck and views from the mountains to the ocean. Sleeps 2 $175-$185
(760) 765-0765
www.strawberrycabin.com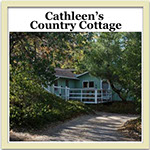 Cathleen's Country Cottage
Charming, romantic 1924 cottage in oaks, pines and cedars. Heating/AC, well-equipped kitchen, cheerful and attractively furnished. Large, fenced exercise area for dogs. Satellite TV, Internet access. Ample, private parking. Two miles east
of historic township. Nightly, weekly or monthly rental. Sleeps 2-6. Pets OK with prior approval.
(619) 977-0729
nada.grigsby@cox.net
www.vrbo.com/162788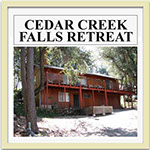 Cedar Creek Falls Retreat
Four bedroom, 2 bath 2-story house with views of oaks every window. Wrap-around deck, 2 fireplaces, kitchen upstairs, kitchenette downstairs. Kid/Dog Friendly. Fenced including
wrap around decks. View of oaks every window. Large living, dining, kitchen, bedrooms. Sleeps 2-15. 2 units. Pets OK.
(310) 569-3345
info@oakgrovefamilycabin.com
www.oakgrovefamilycabin.com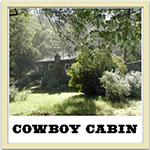 Cowboy Cabin
Cozy cabin on 30 wooded acres. 1 1/2 miles from the Julian Town Site. Great views. 2 bedrooms, 1 bath. Full kitchen, wood stove, WiFi, TV, DVD,
books, board games. Quiet. Sleeps 4-5 Dogs ok with prior approval.
(760) 473-3154
P.O. Box 881, Julian, CA 92036
info@julianactive.com
www.julianactive.com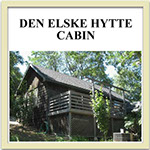 Den Elske Hytte
A quaint mountain hideaway. Vintage cedar cabin, all amenities. Large fireplace. 1 mile from the Julian Town Site. Sleeps 2. Pets allowed with prior approval.
(619) 929-9858
2268 Sunset Drive
P.O. Box 1304, Julian, CA 92036
jennings1268@att.net
www.vrbo.com/343638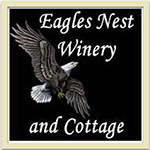 Eagles Nest Winery & Cottage
Romantic high-end wine-themed getaway for 2, overlooking scenic West Ramona Valley. Antiques, expansive stone deck, Jacuzzi tub, TV/DVD.
(760) 505-8229
info@eaglenestwinery.com
www.eaglesnestwinery.com

Four Seasons Lake House
Luxurious 2,500 square foot mountain house with the modern amenities of a fine hotel. The house overlooks Lake Cuyamaca and has the most Spectacular views of the Lake and the surrounding meadows and mountains
Sleeps 10
(619) 993-7855
Homeaway #952637
www.homeaway.com/vacation-rental/p952637
Map

Grandview Ranch House
We are located on 30 acres with hiking trails. Only 1 mile from the Julian town site yet a world away.
We offer the finest views to be found in the area.
Large spacious 2BR 2Bath ranch house with wood stove, full kitchen, Wi-Fi, and an entertainment center. A great escape!
Phone: 760-473-3154
julianactive@sbcglobal.net
www.julianactive.com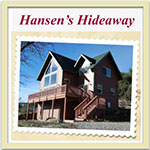 Hansen's Hideaway
Luxury cabin rental overlooking Lake Cuyamaca. Fully equipped kitchen, recreational room, 2
bedroom plus loft, 2 bath. Walking distance to lake. Sleeps 8.
(858) 414-8112
34585 Navajo Road, Julian, CA 92036
info@hansenshideaway.com
www.hansenshideaway.com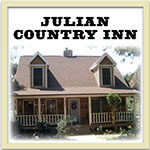 Julian Country Inn
Antique decor, 5 minute walk to town. Rooms sleep 1-6 guests. Suite w/ kitchen. Rooms include: electric fireplace, refrigerator, mcrowave, toaster/oven & coffeemaker, Wi-Fi, TV with movie channels. Also laundry facilities and patios. Three suites with Queen or Full size beds and one suite with King.
(760) 765-4838
2343 Sunset View Drive
P.O. Box 1072, Julian, CA 92036
www.juliancountryinn.com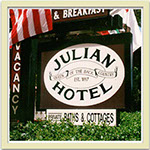 Julian Gold Rush Hotel Bed & Breakfast 
Julian's only Historic Hotel lies in the heart of the turn of the century district just steps away from local dining and shops. The freshly renovated landmark Hotel represents the Gold Rush spirit with historic ambience and modern day amenities. All guest rooms, cottages (w/fireplace) and suites include private baths, free WiFi, A/C, gracious afternoon tea and full two course breakfast. AAA- approved.
(800) 734-5854
www.julianhotel.com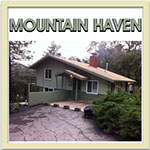 Julian Mountain Haven
Beautiful spacious, secluded, serene Pine Hills cabin. High beam wood interior with  fireplace, full kitchen. 2 bedrooms, 2 bath.  Sleeps 6-8. Deck with views on an acre of  wooded land.
(619) 857-8784
tslifeline@aol.com
www.julianmountainhaven.com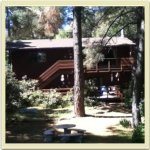 Julian Retreat
Large 2000 square foot cabin furnished with antiques. 3 bedroom, 2 full baths, complete kitchen, fireplace, 2 living rooms. Amenities include central heat and air, sauna, satellite, TV and internet. Outside gazebo, massive trees and a view. Close to town. Sleeps 8. Pets OK.
(619) 562-5446
millanchessman@gmail.com
For vacation rental: julianretreat.wix.com/rest
For retreat options: www.aonefastingretreat.com

Julian Station Loft
This unique two bedroom 1940's era loft is located above Julian Station — a destination with 4 tasting rooms, an organic Mexican Taco Bar restaurant, shops and a gorgeous scenic back patio. Walk down Orchard Ln. past a 400+ acre horse ranch, a sheep and goat ranch, several ponds, and breathtaking mountain views. Ask about other lodging options.
(760) 885-8364.
4470 Highway 78, Julian, CA 92036
albert@julianstation.com
Julian Station Loft
(760) 885-8364
https://www.airbnb.com/rooms/6956637

Julian Vacation Rentals
Julian Vacation Rentals specializes in turning your second home into a vacation destination. JVR places visitors up to 500, making your retreat vacation a memorable one. 10 plus vacation homes and 3 facilities.
760-765-4604
P.O. Box 2144
Julian, CA 92036
Info@julianvacationrentals.com
www.julianvacationrentals.com



Julian Wagon Wheel Retreat
Wonderful 8 bedroom, 7 bath log trimmed home on 21 acres. Perfect for family reunions, retreats,
corporate getaways or a little time with your family. Wrap around deck, Jacuzzi, BBQ, are some amenities. Sleeps up to 26 people. Pet OK.
Rooms can be divided.
(760) 670-8357
569 KQ Ranch Road
P.O. Box 5, Julian, CA 92036
www.julianwwretreat.com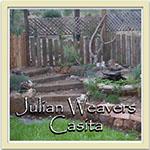 Julian Weavers Casita
Surrounded by tree-lined meadows. Spacious private casita. 2 person whirlpool tub, gas fireplace, queen bed, kitchenette, patio, serenity garden with waterfall, TV, AC.
(760) 765-2432
www.julianweaverscasita.com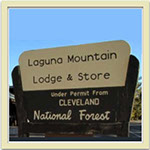 Laguna Mountain Lodge
Beautiful mountain getaway in the Cleveland National Forest. Cabins and motel rooms with fireplaces. Very clean! Friendly and comfortable accommodations for singles, couples or families.
(619) 473-8533 (pet ok with prior approval)
www.lagunamountain.com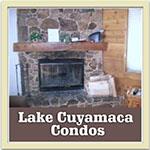 Lake Cuyamaca Condos
Lake-front deluxe condos with kitchen, patio with gas BBQ, fishing. 1 unit is wheelchair accessible. Children welcome. Each sleeps up to 6 comfortably. Pet OK.
(877) 581-9904
15027 Highway 79, Julian, CA 92036
www.lakecuyamaca.org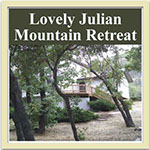 Lovely Julian Mountain Retreat
Beautiful vacation home in the oaks. Close to town. Full kitchen, wood stove, TV/VCR/DVD, Internet, central AC/heat.
Sleeps 4-8. Children welcome.  Pet dogs welcome with prior approval. Fenced dog exercise area. Ample parking.
(619) 977-0729
www.vrbo.com/105636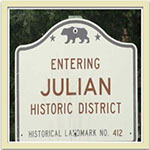 Mountain Rose Retreat
Beautifully decorated, three bedroom home. Open concept living/dining/kitchen. 3 TVs, DVD, Netflix, WiFi. Frond and side deck. BBQ, Pet Friendly. Close to town. Walk to Nickel Brewing.
2268 Whispering Pines Drive
Julian, CA 92036
760-315-2808
www.julianvacationrentals.com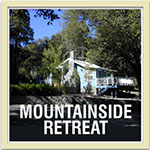 Mountainside Retreat
Private getaway for those seeking a secluded country vacation. Massive trees, outdoor patio & deck. Sleeps 2. Your vacation getaway!!
(760) 765-0429
www.pinezanita.com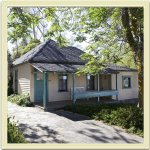 The Painted Porch
The whole place is a living museum designed for daily living. The rooms combine antique décor with the modern amenities.
Just a little taste of history everyday.
The fun and relaxed atmosphere of The Painted Porch House makes it the perfect getaway for yourself or the entire family.
2603 C Street, Julian Ca 92036
Cell: 760-554-1291
Office: 760-765-1931
www.piersonspaintedporch.com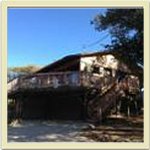 Pheasant Hill Cabin
Fully furnished 720 sq. ft. studio cabin with wrap-around deck. WiFi, A/C, propane
fireplace, wood burning stove, books, board
games and a fenced in back yard for dogs.
(760) 212-8661
broker@sdchoicere.com
www.vrbo.com/557164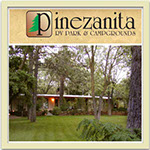 Pinezanita Cottages
Furnished 1 bedroom cottages, queen beds, dining rooms, kitchens, living room, TV/VCR, wooded, fishing pond. Sleeps 2. Wheelchair accessible.
(760) 765-0429
www.pinezanita.com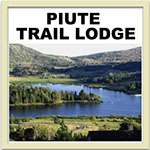 Piute Trail Lodge
Cozy cabin overlooking beautiful Lake Cuyamaca, just minutes from Julian. 2 bedroom, 1 bath, full kitchen and large deck.Children OK. sleeps 6
(760) 765-0225
www.vacationrentals.com/listing/p7076091

Sacred Mountain Julian
Sacred Mountain Julian is a private 61 acre ranch providing wedding retreat accommodations and vacation rental facilities, The property is extremely picturesque with plateaus, meadows, ancient oaks, horseback riding, peace and tranquility. By reservation.
(760) 765-1800
sacredmountains@gmail.com
http://sacredmountainjulian.com/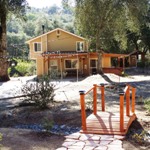 San Diego Spiritual Retreat Center
We have two houses available for you that will accommodate up to 10 guests. Our event venue is excellent for Yoga Events, weddings in Julian, birthday parties, family reunions, or anything you want to celebrate.
Jennifer Robinson
(619) 333-8557
5049 Hwy 78
PO Box 603
Santa Ysabel, CA 92070
info@sandiegospiritualretreatcenter.com
sandiegospiritualretreatcenter.com

Santa Ysabel Studio
Cute, clean, well appointed studio, with kitchenette.  Your private getaway in the backcountry.  Perfect for a couple. Walking distance to Julian Pie Company, Dudley's, Don's Market and gas station.  Sleeps 2.
760-917-2311
cin92036@gmail.com
www.santaysabelstudio.com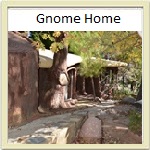 Shadow Mountain Ranch
Located in scenic Julian, California, we've been a San Diego area favorite for many years! If you're looking for a romantic getaway, Shadow Mountain Ranch offers a unique experience you're sure to love. Each of our four guest rooms has a different theme, just waiting for you to explore. So come on in! We're glad to have you.
2771 Frisius Dr, Julian, CA 92036
smrvrbo@gmail.com
www.shadowmountainranch.net

Starry Pine Mountain Retreat
Relax, unwind and get away from it all in Julian! 2 bedrooms/2.5 baths/Dual living rooms + large game room. Plenty of room for two families or two couples. (sleeps 10)
Property Mgr. (760) 670-8357
jonna.mcfarland@gmail.com
www.vrbo.com/916630

The Enchanted Lookout
We've devoted over a year lovingly renovating and remodeling this vintage "fire lookout" cabin into a luxury vacation rental including high-end appliances, in house laundry, new forced air heat and cooling, a Hot Springs spa on one of our expansive decks, and a Saber infrared propane grill.
The newly renovated and remodeled home is filled with art, antiques, and a library of classic books. Vaulted ceilings and stunning views from every room create a serene tree-house effect.
The two bedroom, one bath cabin is just over a mile from the historic town of Julian, yet it's a private sanctuary with panoramic forest and Volcan Mountain Preserve views.
www.airbnb.com/rooms/15131412?s=IUmQgtVJ&sug=50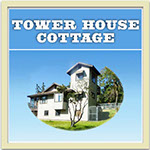 Tower House Cottage
Newly renovated 2 bedroom 2 bath cottage. Sleeps 6. Wood stove or central heat for all night comfort. Large fenced yard. Dogs and kids welcome.
For reservations contact Mountain Farms Real Estate in Julian: (760) 417-0481
For unresolved concerns contact Jim or Judy Frost: (507) 362-4520
www.juliantower.com
Volcan Shadows Retreat
3 Bedrooms, 1.5 baths, 360 degree views of Volcan Mountain. Sun room and family room.  A great place for a retreat or wedding. Sleeps 8.
(760) 515-7829
www.julianvacationrentals.com
www.julianvacationrentals.com/volcan-shadows-retreat

Volcan View House in Julian
Enjoy fabulous views of Volcan Mountain. About a mile outside the downtown area, our 2 bedroom, 2 bath house is light, airy and comfortable. Well equipped with full kitchen and large deck. Please check out our pictures on the link below. We recommend you call us direct at (858) 720-0727 to obtain the best rates.
https://www.airbnb.com/rooms/20327713?location=julian%2C%20CA&s=iA_ir2tl 

Warner Springs Ranch Resort – Historic Cottages
A Legendary 2,500-Acre, Western-Style Ranch Resort located near Lake Henshaw in the Warner Valley / Julian foothills, just over an hour Northeast of San Diego. WSRR offers overnight guest accommodations in 10 of its historic cottages – each newly renovated to reflect the rich, rustic past of the Warner Valley along the Pacific Crest Trail. These restored cottages feature one queen bed or two double beds, a private bathroom and high-speed wireless internet access. Surrounded by tall oaks, sandstone and granite formations, vast meadows, rugged hills, streams and an 18 hole championship golf club / bar & grill just across the street, these charming cottages highlight the heritage and simplicity of life that was the "Old West," while offering a comfortable escape away from city life. Single & Double Occupancy European Plan – plus Bed & Breakfast Packages and Stay & Play Golf Packages available.
(760) 782-4220 or (760) 782-4270
31652 Hwy 79, Warner Springs, CA 92086
reservations@warnerspringsranchresort.com
www.warnerspringsranchresort.com
Whispering Pines Retreat
Come enjoy the mountains with all the comforts of home. All linens included, fully stocked kitchens. We offer 4 cabins that fit any size group.
Ilana Gold
(858) 442-1060
2112 Whispering Pines Dr.
Julian, CA 92036
Ilanagold18@gmail.com
www.whisperingpinesjulian.com